A Brief History of Christmas in Canada
Christmas time is here again!
We gather around the tree together as a family and watch the latest Christmas special. We listen to Michael Bublé warble out the latest hit carol. Finally, we rest our weary heads, our backs and our limbs on a soft, new O Mattress from Mattress Omni.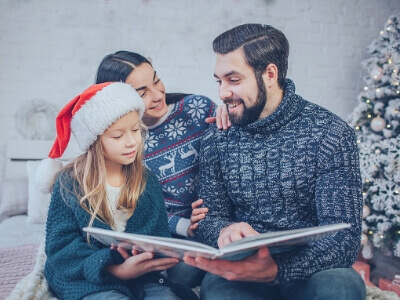 Through our traditions and festivities, we should look back on what makes Christmas so awesome. The presents? The fun times with family and friends? The presents? The specials on TV? Carols on your radio? The presents? All that wonderful food? The great holiday shopping? The presents? A Christmas mattress like an O Mattress memory foam mattress under your tree?
Did we mention presents?
The great holiday we celebrate to this day couldn't exist without what came beforehand. Without the history, there's no great music, no tasty treats, no parties with friends during the holidays. No family gatherings, and no presents! That's more of a nightmare left behind with your old innerspring mattress very soon.
Instead, let's take a trip back to see why it's such a great holiday.
From Winter Solstice to Saturnalia
Did you know Christmas originates from the winter solstice? It's true! And you know how much we Canadians talk about winter!
Winter solstice is the shortest day of the year. So, once it passes, the promise comes of better times ahead.
The ancient druids may not have had much more than straw and animal furs for a mattress (unlike our more modern, more comfortable, and much cooler memory foam mattress like the O Mattress). But during their time, they are very knowledgeable of astronomy and the seasons. They use Stonehenge to calculate the exact time of the winter solstice from combining its unique stone layout with the position of the suns and stars. When they discover the day of the winter solstice, they celebrate with a feast around the ancient monument.
The Romans tell a different winter solstice history story. As luxury-loving people who could appreciate our memory foam mattresses, they create a winter solstice festival called Saturnalia. It starts a week from the winter solstice and doesn't stop for at least a month. Schools and businesses close, feasts and drinking begin. Slaves become the masters and vice versa.
Then the Vikings give their own twist on the winter solstice festival called "Yule." They make offerings, feast, drink, and have a great time. It's one of the Viking's greatest cultural exports, too. Germanic and Anglo-Saxon cultures also have their own similar Midwinter festival.
It's not so clear cut as to say Christmas comes directly from the winter solstice, but it's safe to say it heavily influences where it comes from.
Early Christmas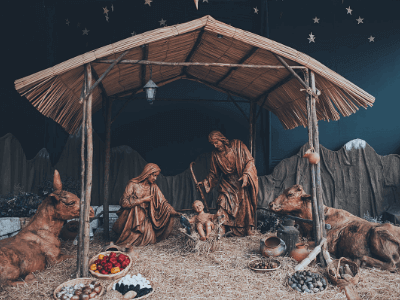 If those ideas from winter solstice festivals sound familiar, they should! The yule log, the tree, wreath, parties and gift giving seen in Saturnalia and Yule. Where do you think people got all those ideas for Christmas?
As Christianity becomes the dominant religion in Europe, they suck up everything they can and make it Christian
Pagan gods become saints, and festivals became "holy days," or "holidays." Winter solstice festivals are no exception. Saturnalia's biggest day, December 25th becomes the birthday of Jesus Christ. With it comes the feasting, drinking, and gift-giving. From Yule comes the Christmas tree, the Christmas wreath, and the yule log.
Some Christians are more enthusiastic than others about partying. Others see the pagan origins and shy away or use the day to worship in Christmas masses. Sometimes they couldn't even agree on the date! (Maybe they needed to sleep on it? We have a mattress for that!)
Not one religious' group, nation or even city has a universal way to celebrate Christmas. But when many people settle in the new world, they bring their traditions with them. Including how they celebrate the holiday.
Christmas in Canada
Canada has a variety of traditions that come from the old world. Depending on what part of the country you or your ancestors come from, you could celebrate Christmas differently from your neighbour.
If you're fortunate to be in Quebec during the festive season, you might feast during the "Réveillon" after Christmas Eve mass. Or perhaps enjoying a "Tortière" or a "ragoût aux pattes de cochons." Or if you're in a Ukrainian community, you might enjoy a 12-course meal on the 6th of January (Roll me to my O Mattress, I'm stuffed!).
But if you're like many Canadians, you get your Christmas traditions from the British. Who brought over such neat stuff as the tree and cards, the kiss under the mistletoe, caroling, and letters to Santa.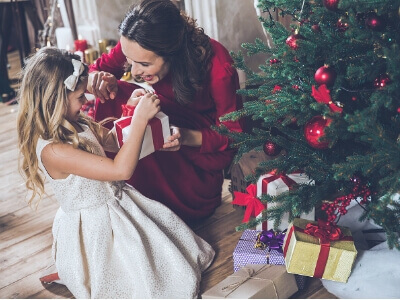 Canadians have our own twist on the old holiday. Children write their letters to Santa and send them by Canada Post (sure, the Finnish think they know where Santa lives, but we know better). Toronto hosts the oldest and largest Santa Claus Parade in the world since 1913! We're known for our fir and pine trees, so we supply lots of trees during the holidays. The Boston Christmas Tree even comes from Nova Scotia; it's sent as a thank you for Boston's help during the Halifax disaster.
From taffy pulls to ice sculptures, cookie-baking parties, tobogganing and Hockey Night in Canada, Canada puts a great spin on the holidays.
Christmas as we Know it Today
Christmas is always evolving here in Canada. Not only do we get many immigrants bringing their own traditions from throughout the world, but we borrow Christmas traditions from our neighbours to the south too!
The United States did introduce tons of wonderful stuff. Christmas movies and TV specials, hit singles like "Rockin' Around the Christmas Tree" and "Bing Crosby's Christmas carols." Mind you, we bring our own songs to the party, and we're good at it. Americans also introduce Black Friday a few years ago, the day after Thanksgiving that kicks off the holiday shopping season. Even Cyber Monday, the biggest day for us in online mattress sales!
Sure, we still have our Christmas tree. We still enjoy our dinner and we love to open one gift on Christmas Eve before we go to bed. Then Santa can sneak down the chimney and deliver gifts. Our unique Canadian take on Christmas does come from a lot of American influence, and that's okay! They add spice to make the holiday nice!
Have Yourself a Merry Little Christmas
As you lay yourself to rest on your brand-new O Mattress from Mattress Omni, understand we are more than an online mattress store with the best bed-in-a-box in the business. Looking for a mattress store near me? We want to give you and your family with the best sleep on our three-layer memory foam mattress. To give you and your family the comfort and support you need during this holiday season.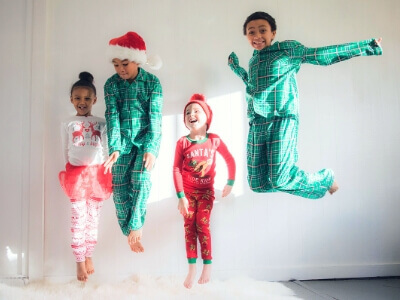 And if you did not yet order an Omni Mattress of your very own… what are you waiting for?! Ordering one is easy! We ship right to your door; you could even receive your O Mattress in time for Christmas.
Do you worry that Christmas spending has put you in a bad credit situation? Don't be! Bad credit or no credit, you're guaranteed approval with our O Powerline. With up to $3000 in-store credit on our O Mattress memory foam mattresses, you could have a mattress for you, the entire family, even your friends! And best of all we ship to almost anywhere in Canada.
As you shop now to get approved for your new mattress, know we value you and the quality of your sleep. So for a better rest this holiday season, throw out your old mattress! Toss away your old mattress topper and check out the O Mattress from Mattress Omni. You don't even need to fight the holiday crowds at a mattress gallery. We have a mattress Christmas sale for you!
Sleep well and enjoy the holidays… however you celebrate it.