Omni-Pay allows you to Buy Now and Pay Later.
Improve your credit while you sleep!
Guaranteed Instant Approvals in seconds
Select bi-weekly payment dates to match your payday
Loans from $599 to $9,900
No hidden fees or penalties
Why rack up your Credit Cards?
Lowest available rate starting as low as ZERO Percent (oac)
Affordable Monthly Payments to suit your budget
Pay out your loan at any time without penalty or additional interest
Instant Approval
Omni allows you to apply for instant approval financing directly from their website.
Borrow Money
Our various participating lenders will agree to lend you the money to pay for your order.
Loan Payment
Simply make your first micro loan payment and we will ship your mattress.
Find out why Omni is voted one of Canada's Favorite Mattress in a box!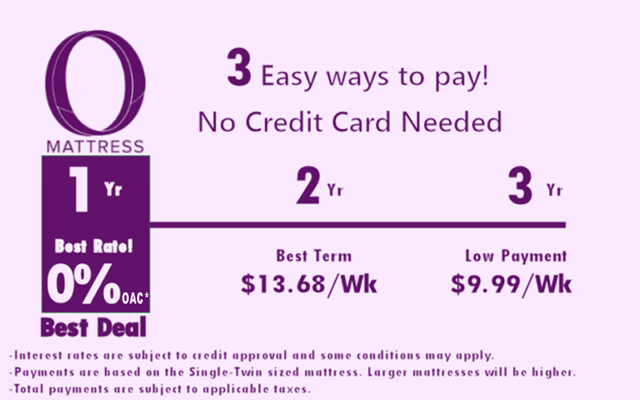 MEMORY FOAM MATTRESS
From The O Mattress™
SEE OUR CUSTOMERS' FEEDBACK
They are falling in love with The O Mattress™
Reviews for The O Mattress
I bought one for my daughter, she loves it!!
Comfiest Thing in the World!
I LOVE my king sized mattress. It's the comfiest thing in the world. I slept like a baby! Zero issues with approval, within minutes I was approved, great customer service, fast shipping & even greater product.
Bought mine a few months ago, was experiencing hip pain and neck pain with my old mattress, and wasn't sleeping through the night. Got so fed up I ordered it at 3 in the morning when woke up in pain. Now I sleep for 6 solid hours and wake up fully refreshed and ready to go. Used to take me 2 hours to fall asleep and now I'm asleep in 20 mins. Highly recommend these guys to all my friends and family. And I couldn't be happier with my mattress.
Buy now , pay later. Loans for Mattresses – Instant approval up to $3000.00
Loans for bad credit and loans for rebuilding credit.