The Mattress Sale Showdown: Black Friday vs Cyber Monday, Who Do You Choose?
Looking for the cheapest online mattress stores? We all know Black Friday is part of the American Thanksgiving Day long weekend, but it's not all about football, turkey, and waiting in line at a too-early hour just to get the best deals on furniture, mattresses, and home electronics. For many retailers it's the time of the year when their spreadsheet goes 'into the black', or when retailers show a profit. The Retail Council of Canada's second annual holiday shopping survey found 40% of Canadians shoppers will buy their new mattress online, even more than Boxing Day, which is up to 34%. Black Friday, despite being a more recent phenomenon for Canadian consumers, is supplanting Boxing Day as the biggest shopping day of the year. If you are looking for an affordable mattress in Canada then check out the O Mattress mattress store.
And it's no different for mattress manufacturers and mattress stores throughout Canada. Mattress brands like Sealy, Serta, Simmons, King Koil, and others roll out their lineup of mattresses through the retail partners at The Brick, Mattress Mattress, Sleep Country, The Bay, and others. You can expect deals throughout the weekend from online mattress stores like Goodmorning.com, Leesa, Endy, Juno, Douglas, Logan and Cove, Layla, Leesa, Novosbed, and Omni Mattress™. So many bed-in-a-box companies roll out Black Friday and Cyber Monday deals, and we at Omni Mattress™ are no different. Find Mattress Stores near me.
With all the competition out there for your hard-earned dollars, it's hard to compare prices, test-drive mattresses, and figure out the difference between financing a mattress, a memory-foam mattress, a mattress-in-a-box, and a hybrid mattress, it's no wonder you feel overwhelmed. And you must choose between two peak shopping days, Black Friday and Cyber Monday. Which day brings the best discount mattress sales? What is the better choice that gets the most out of your mattress spending dollars? Let's figure it out! Find Mattress Stores near me.
Black Friday, A Holiday Shopping Tradition!
What Black Friday has on its side is tradition. Ever since President Franklin Roosevelt declared Thanksgiving on the second last Thursday of every November, there's been retailers holding Black Friday sales. Department stores like Macy's sponsored parades to bring in more customers. Where did they get the idea? From us Canucks! Eaton's held the first parade back in 1905! The Friday after Thanksgiving got so busy and chaotic they adopted the phrase Black Friday. Rather than give in a negative connotation, marketers and retailers gave Black Friday a more positive spin by holding bigger and better sales, eventually adopting the Black Friday name. By the 1980s, Black Friday became the biggest shopping day of the year in the States. Find Mattress Stores near me.
Canada wouldn't start their own Black Friday sales until the 2000s, when Canadian stores wanted to stop Canadian shoppers from flocking south of the border, to find the best deals on everything from housewares to gel-memory foam mattresses. It would take a few years to adopt, but Black Friday in Canada became a phenomenon in 2008 and grew into a part of Canada's holiday shopping by 2012, and it's only gotten bigger since. Find Mattress Stores near me.
Canada Loves a good bargain (especially on a memory foam mattress like the O Mattress™). But you know what Canada loves more? Not braving the cold weather and the aggressive crowds to find a bargain on their next new memory foam mattress. Enter Cyber Monday.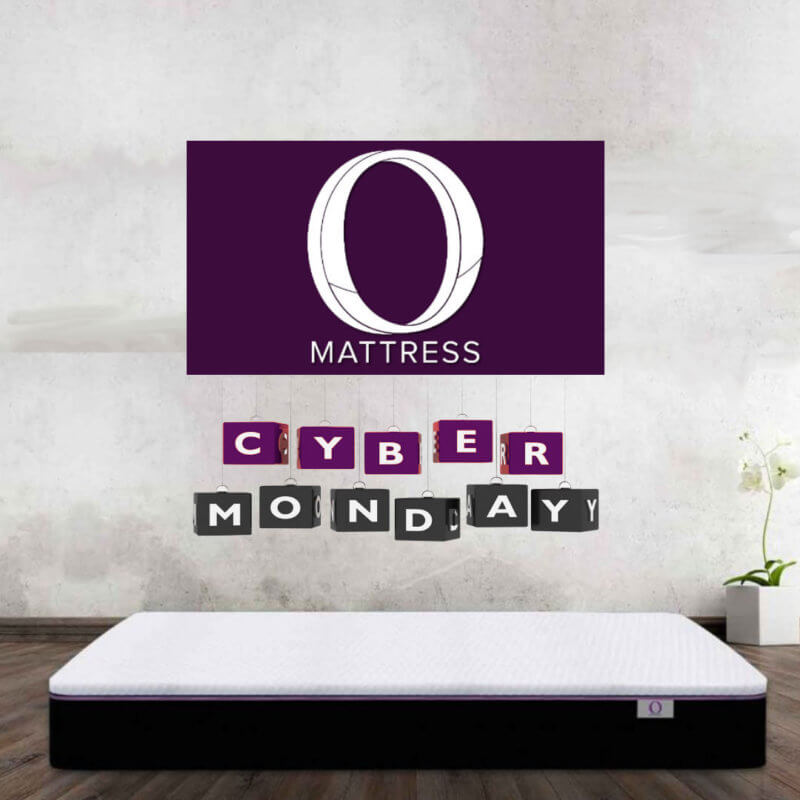 Cyber Monday, the Mattress Sale Upstart Challenger
What Cyber Monday lacks in tradition, it makes up in convenience and technology. Cyber Monday online sale is a recent phenomenon, just like the Black Friday sale in Canada. While shopping online for a mattress and other goods has been around in some form since the 90s, it wasn't until everyone got high speed internet and more security for their online purchases (such as PayPal and online security from Visa and Mastercard) that online shopping came to the masses. The security, convenience, and a wide selection made online shopping in places such as eBay, Best Buy, Wal-Mart, and Amazon.ca such a mainstay in our daily lives.
At one point, Ellen Davis of the National Retail Federation noticed a spike of online shopping traffic during the Monday after American Thanksgiving, thanks to people returning to work and using their workplace's high speed internet to do the holiday shopping they missed during Black Friday. She coined the phrase Cyber Monday, and it stuck. Much like Black Friday, Canadian retailers and Canadian online stores adopted Cyber Monday to compete with the deals offered by their American counterparts.
Cyber Monday's also grown in popularity in Canada. 32% of Canadian consumers plan on doing their holiday shopping on Cyber Monday, as the biggest online shopping day is catching up to the biggest shopping day in the real world.
Black Friday Mattress Deals at Mattress Stores
In mattress sales, Black Friday and Cyber Monday can be the same. It's the weekend where they roll out the best bargains for all the top innerspring mattress and memory foam mattress brands, whether it's in a brick-and-mortar store, or online at the tap of a touchscreen.  Because everyone's competing for your hard-earned dollars, the ultimate winner is you, whether you shop in a discount mattress clearance store on Black Friday, or cruise cyberspace for the best online mattress sales on Cyber Monday.  Whatever you're looking for in a brand-new mattress for your bedroom, you'll find a sale, but will it be right for you?
The good thing about a store on Black Friday you can see the mattress for yourself, on display, and lay on it to see if it fits. The downside is you're fighting the crowds and you must compete for a limited supply, since retail stores love to limit the supply to bring in more crowds. That's why so many people wait as early as the day before in long lineups in the freezing cold. They're afraid to miss out! And some do, and that's when things get ugly.
Cyber Monday Shopping Online for a Mattress
Then you have a look at Cyber Monday. Long lineups? A relic of the past! Online mattress stores and high-speed internet make even a busy online day like Cyber Monday hardly a worry. Bad weather? Online shopping is only as uncomfortable as you make it. Imagine shopping for a new memory foam mattress, on your current old innerspring mattress, knowing you'll have your memory foam mattress delivered within days without leaving your mattress! We only dreamed about doing this as kids!
Leave the freezing temperatures, the long lineups, the hours of waiting in the dark, and the sleep-deprived and surly shoppers behind.
Cyber Monday takes the stress out of shopping for a mattress on Black Friday weekend. Cyber Monday is the future of online mattress shopping! Why drive from store to store hunting for your next new mattress when you can buy a mattress online at the click of a mouse? Shopping for a mattress online, your home is your own discount mattress store, and the inventory is endless!
The only question is, who's the king of Black Friday and Cyber Monday mattress sales?
The answer may be closer than you think.
Black Friday, Cyber Monday, and Omni Mattress
Nobody's looking forward to fighting the holiday crowds or wading through search results for the best holiday mattress sale, so we're taking the searching and struggle out of mattress sale hunting for you. Introducing the O Mattress™ from Omni Mattress™.
Consider your sleep comfort three layers safe, with O Mattress™ and their triple-layered comfort system. Wrapped inside a machine-washable, breathable, quilted cover are three different layers of memory foam paired together for the best in sleep comfort. First, the OmniCool™ cooling gel memory foam dissipates body heat and leaves you with a cool and comfortable sleep experience at night. Second, the OmniEvolution™ luxury foam with OmniBubble™ technology provides support and spring, leaving a mattress that's fun to bounce on and a joy to sleep on. Last, there's the OmniFoundation™ compression foam, for lasting support, reduced motion transfer, and edge support so you sleep well and undisturbed.
With an industry leading 20-year warranty, your new O Mattress™ from Omni Mattress™ will be your best Black Friday or Cyber Monday deal ever, because it's the deal that lasts you 20 years of blissful sleep.
Shake off the Post-Shopping Credit Blues with O Powerline
Black Friday and Cyber Monday is tough on your budget, and with bad credit or no credit your finances are hurting from the holidays. No problem! That's why Omni Mattress™ has the O Powerline™. Guaranteed approval for up to $3000 spending limit. Buy a mattress for your family, every family member! And now with Flexiti Financial and PayBright for online purchase financing, your mattress financing options have never been easier.
The clear winner of Black Friday vs Cyber Monday is Omni Mattress™ and you. So why take on the crowds and the competition when a better sleep is a click away?