Mattress Omni is your MDG source!
Mattress Omni's MDG ( Mattress Discount Guarantee ) program is the best mattress liquidation discount centre in Canada. Mattress Discount Guarantee MDG — If you are looking for an online Mattress Mattress in a box then Check out the Omni "O" Mattress in our MDG discount outlet.
Up To $3,000 In Credit To Shop With Us
Low Minimum Payments to Fit Your Budget
Pay Over Time with Flexible Payment Plans
Pre-Qualify Even If Your Credit Isn't Perfect
Omni-Pay allows you to Buy Now and Pay Later*
Guaranteed Instant Approvals in seconds
Select bi-weekly payment dates to match your payday
Loans from $599 to $9,900
No hidden fees or penalties
Why rack up your Credit Cards?
Lowest available rate starting as low as ZERO Percent (oac)
Affordable Monthly Payments to suit your budget
Pay out your loan at any time without penalty or additional interest
Instant Approval
Omni allows you to apply for instant approval financing directly from their website.
Borrow Money
Our various participating lenders will agree to lend you the money to pay for your order.
Loan Payment
Simply make your first micro loan payment and we will ship your mattress.
Find out why Omni is voted one of Canada's Favorite Mattresses!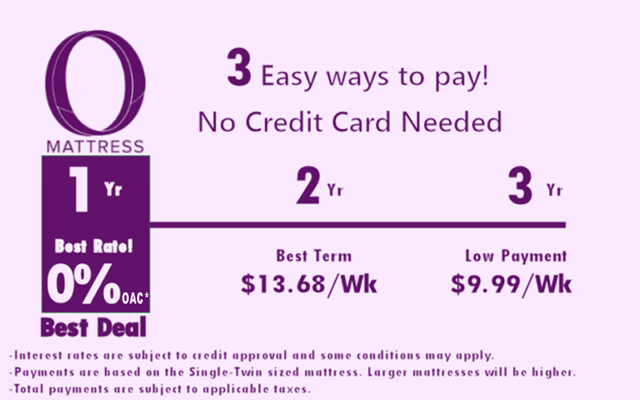 Amazingly Comfortable Sleep 
From The O Mattress™
A Canadian made mattress
shipped directly to your door the MDG way

Free Shipping | 20 Year Warranty
GET APPROVED
SHOP NOW
SEE OUR CUSTOMERS' FEEDBACK
They are falling in love with The O Mattress™
Reviews for The O Mattress
No More Thrashing Around!
I have a lot of steel in my spine, usually I just thrash around most of the night. I had my new mattress for less than a week. No more thrashing around! Best mattress that I have ever owned!
We are impressed! Just got ours today, and man what a difference in comfort. So glad you guys approved me! Will be nice have a great night's sleep. 🙂
Love my new bed, and I received it in only 5 days! 👍👍👍👍
Buy now , pay later. Loans for Mattresses – Instant approval up to $3000.00 and receive mdg savings
Loans for bad credit and loans for rebuilding credit.