The Birth of the Cyber Monday Phenomenon
Everyone knows the Black Friday mattress sale phenomenon. Where everyone from Sealy to Serta, their brick and mortar stores like The Brick, Sleep Country, and Mattress Mattress, and even the online mattress stores such as Endy, Novosbed, Mattress Omni and Tuft & Needle sell their mattresses on sale for huge Black Friday mattress discounts.
Not everyone knows about Cyber Monday. Where all the big retail stores with an online presence and the exclusive online stores such as Amazon have their own big sale. But where did it come from? And how did it come to be?
Black Friday Can be Thanked
The start of Cyber Monday is huge thanks to Black Friday. Black Friday is one of the biggest shopping days in the calendar year, right next to the Saturday before Christmas or Boxing Day. It's grown so big that big-name stores try to swallow up Thanksgiving and open at midnight. All in the hope to wring out more profits. And when Black Friday got huge in the 2000s,
Cyber Monday was born.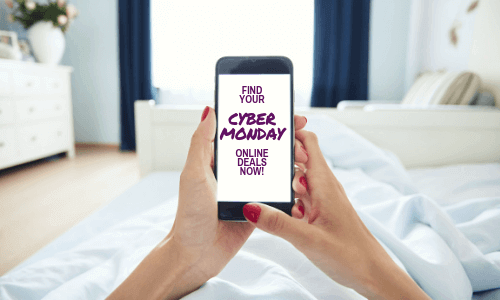 In the early 2000s, Cyber Monday was not yet a thing. In fact, e-commerce and online stores were not as big as they are today. Websites such as eBay and Amazon are selling a fraction of the 2.3 trillion dollars we've seen in 2017, according to Statista. They expect it to balloon into 4.9 trillion by 2021.
Retailers such as Best Buy, Wal-Mart and Sears did not even set up their own online stores, much less the mattress industry. At the time they are still selling their goods in wholesale mattress discount stores or brick-and-mortar retailers. Buying mattresses online is not yet a big thing.
The new wave of online mattress stores that sweep the nation with their affordable, comfortable memory foam mattresses is yet to happen.
PayPal is newly sold by Elon Musk, says TIME, (before he tinkers with electric cars and rocket ships). Credit card companies such as Visa and Mastercard are still working on ways of encrypting and securing online transactions. The e-commerce industry still the wild, wild west. People, especially workplaces, are moving away from their 56k modems on their land-line. Getting comfortable with the high speeds of broadband internet. Though in the early 2000s broadband is mostly at work.
How does this tie into Cyber Monday? The big players set the stage, the conditions just right for a perfect storm of e-commerce success.
Who Can Spot the Cyber Monday?
And that's when Ellen Davis of the National Retail Federation (NRF) notices a pattern.
Davis finds early online stores are experiencing a spike in online revenue and online traffic after Thanksgiving, especially on the Monday after, writes Reader's Digest. After a little digging, she comes up with a theory.
People are missing out on the Black Friday sales! And it's easy to understand. Black Friday grows to be such a huge phenomenon it is literally a hassle to shop on that day. Lineups in the freezing cold with sleep deprived, cranky people. Fighting to be the first to get an exclusive item the stores always in limited quantities. The Black Friday phenomenon is going nuts!
So rather than fight the crowds and risk missing those Black Friday sales, people choose instead shopping online to find Thanksgiving Weekend deals.
And since the long weekend begins on Thursday and many workplaces give their employees the day off, people are spending the Thanksgiving Day long weekend with family instead. Sure, they could shop online using their 56k phone internet connection. But it is too slow for any serious online shopping.
When workers return on Monday morning, they use their employer's way faster broadband connection to take advantage of the deals they did not get on Black Friday.
And because 'cyberspace' was still a thing, Ellen Davis coins the phrase 'Cyber Monday.' In 2005 she sends out a press release titled, 'Cyber Monday Quickly Becoming One of the Biggest Online Shopping Days of the Year'. It releases on the NRF affiliate website Shop.org.
Soon Cyber Monday is almost as big a hit as Black Friday itself. It is in 2008 Cyber Monday really takes off when Amazon's online traffic grows 21% according to Business Insider. Cyber Monday helps launch Amazon's popularity. The biggest retailers such as Wal-Mart, Toys R Us and Target roll out their own Cyber Monday specials to compete.
By 2010 Cyber Monday manages $1 billion dollars in sales. In 2017 that number skyrockets to over $6.6 billion.
How Canada Grew to Love Cyber Monday
Imitation shows as the most sincere form of flattery for Black Friday and Cyber Monday in Canada. Canada sees a huge amount of cross-border shopping. Many Canadian retailers get jealous of the American stores raking in the dough and leaving Canadian storefronts frozen out. Canadian storefronts always had their own Black Friday sales to keep their customers north of the 49. Cyber Monday becomes no different.
2008 sees the first Cyber Monday sales, but 2010 shows an even more incredible interest. The National Post features an article about Canadian stores having Cyber Monday and Black Friday sales to counter cross-border
shopping. Soon 80% of Canada's online stores are giving out their own Cyber Monday specials.
Canada is not alone for long. The day catches on with the rest of the world, shares Digital Commerce 360, expanding to Mexico, to South America, Europe and parts of Asia. With Cyber Monday taking over the world, experts believe Cyber Monday will make $523 billion worldwide.
What Cyber Monday Means for You,
the Mattress Buyer
Cyber Monday doesn't only mean the best deals on TV's, computers, home furniture, and bedroom furniture online. It means phenomenal deals on your favourite mattress brands too!
Considering online mattress retailers have taken off almost in-line with the Cyber Monday phenomenon. That means you can expect Leesa, Layla, Helix Sleep, Nectar, and Casper to roll out their own Cyber Monday mattress deals.
But you need not go very far to find the best mattress deal at Mattress Omni. With all the positive buzz about the O Mattress from Mattress Omni, it's no wonder Canada has fallen in love with O Mattress's comfort. It features three layers of comfort from the OmniCool gel top layer, the OmniEvolution luxury foam for softness and the OmniFoundation compression foam for support.
With an industry-leading 20-year warranty, Mattress Omni built the Canadian made O Mattress to last. Anyone can have an O Mattress! Bad or no credit is not an issue with the O Powerline for guaranteed approval up to $3000 for the memory foam mattress purchase.
And just in time for Cyber Monday! We'll see you then!